Boat Driving
Driving a Narrowboat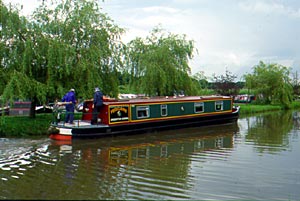 The controls are as simple as can be - start/stop, forward/reverse, left/right. A child could drive one of our boats - in fact, under supervision, they often do.
Full tuition is given to each purchaser and the boat comes complete with a very comprehesive manaual and 24hr back up from experienced Alvechurch staff.
On a narrowboat, you are welcomed as part of the scenery, rather than just another tourist. Your whole holiday is at walking pace, there's time to savour the scenery, talk to people and get in touch with a more social type of lifestyle.
Put the world behind you and set off up the canal. Free at last. Stop when you feel like it. Get up when you feel like it and above all go where you want to go.
Make this the year you escape to the real England with a narrowboat and Alvechurch.
If you want to try a boating holiday why not rent a short break or week from one of the leading boat hire companies